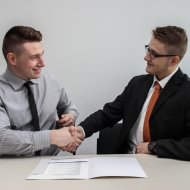 How We Approach
Recruiting
MetaGrowth knows that forming a great sales team starts at the applicant stage. You need a dedicated process for reviewing applications, identifying lead prospects, setting up interviews, and heading to the onboarding specialist for paperwork.
Each of these stages and the roles involved need to be clearly defined, and we help you do that. Every step needs to be handled with care and close attention to detail.
01. Applicants submits Information
Applicants submit their information through the Indeed job post
02. Recruiting Assistant checks resumes
A recruiting assistant looks through resumes and decides who will move forward based on clearly identified criteria
03. AI Analytics filters Application
An AI analysis tool helps filter through applications
04. Phone screening
A phone screening is conducted with next-level candidates
05. Final Interview
A recruiter, onboarding specialist, or CEO then conducts the final interview if an applicant moves forward
06. Onboarding Process
Onboarding specialists make sure each detail has been addressed to bring in a new hire, including all necessary platform access
Why
Our Formula

Works

Successful recruiting requires each individual role to be clearly defined in the process. Expectations must be set in stone so there's no confusion about identifying an ideal sales candidate.

MetaGrowth's proven workflow helps you find the right people with no hiccups along the way.
Launch a better recruiting process now by contacting the MetaGrowth team.